Copeland "Working Group" along with Allerdale "Working Group" are ostensibly the "local support" for a Geological Disposal Facility in Cumbria. They are enthusiastically going along with the 'new and improved' process of steps towards Geological Disposal of Heat Generating Nuclear wastes. The last process was a bit of a "dogs dinner" (said pro nuclear George Monbiot who supports making ever more nuclear wastes by burning plutonium) in that it allowed Cumbria County Council to veto the plan and bring the whole process to a halt. This time the process dumps any semblance of democracy with the County Council now having no "right of veto," now anyone, anywhere can "express an interest" in "site selection" with a "test of public support" and Geological Disposal has been made a Nationally Significant Infrastructure Project (ie it can overrule local opposition in the "national interest").
The stand out statement in the "Virtual Exhibition" from Radioactive Waste Manangement is that Geological Disposal is The Right Thing to Do (RWM are advised by the Committee on Radioactive Waste Management answerable to BEIS and comprising of a dozen or so members including the CEO of West Cumbria Mining, Mark Kirkbride).
In the words of Victor Meldrew "I Don't Believe It!" Geological Disposal is NOT The Right Thing To Do – Not Now and Maybe Not Ever.
Here is an extract of the Newsletter from Copeland "Working Group" which dropped into my inbox, it is scary in its denial of previous findings and the inconvenient fact that there is no GDF for heat generating nuclear wastes in existence, anywhere! The Right Thing to Do would be to STOP making ever more nuclear wastes but somehow that thought never crosses the minds of those supposed to be thinking clearly about ethics and safety with regards nuclear wastes.
Here it is – read it and get active in opposing the new push to bury nuclear wastes under land and sea.
"Newsletter – Issue 3
January 21, 2021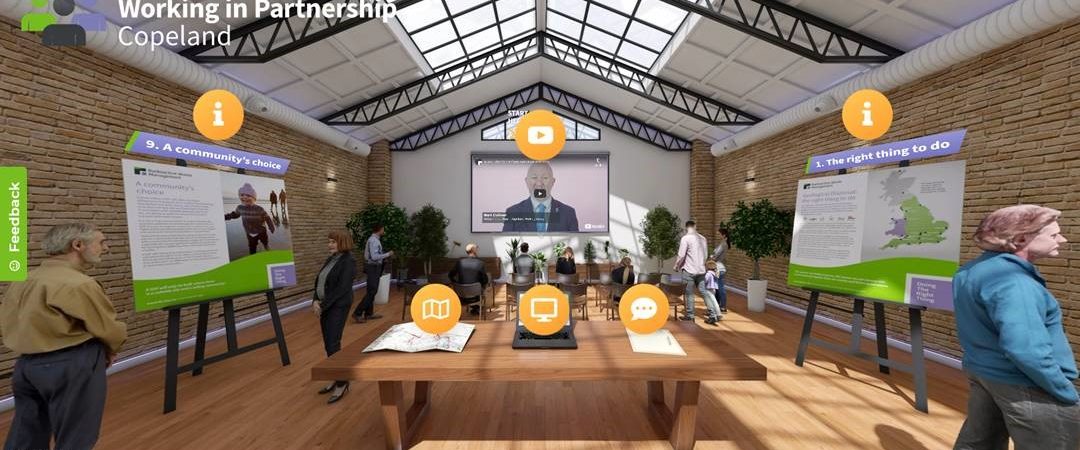 Happy New Year to you and welcome to the third edition of the Copeland GDF Working Group newsletter.
Today we've launched a 'virtual exhibition' to bring the subject of geological disposal to life and give you a better understanding of what it's all about.
During these current uncertain times it's more important than ever to offer alternative ways for people to access factual information about what a GDF is, in an easy to understand way.
Please find a link to the interactive virtual exhibition here where you will find videos, graphics and information – including a 360-degree tour – to demonstrate how a GDF works, why it's needed and what it could mean for Copeland.
It provides the opportunity to find out more about the GDF programme, offers a good source of information and it's very easy to access, even from a mobile phone.
Please come back to us with your views, comments and questions and feel free to share the virtual exhibition link with anyone who may be interested.
Our engagement with people on the potential for consideration of a GDF somewhere in the area of Copeland is important as part of the search to find a suitable site and a willing community to host a GDF for the UK's higher activity radioactive waste.
Our Working Group has three main tasks – begin to understand community issues, opportunities and questions about GDF; identify a search area or areas within Copeland which could then befurther investigated for potential locations for a GDF, and identify initial members for a Community Partnership that could take that work forward. The Working Group will not identify specific sites or decide on locations, it will merely suggest areas for further consideration by a Community Partnership.
Community consent is at the heart of the process and a GDF cannot be built unless there's a suitable site and a willing community.
Under normal circumstances, we'd be going out to speak to people face to face and offering them the opportunity to see an exhibition. We can't do that right now, so we want to provide an experience that's as near to that as possible. Please also take a look at our website for information.
And don't forget that the Working Group and communities have access to a whole series of experts who can provide further detailed information.
If you're part of a community group, we would like you to get involved in these early conversations so please do get in touch. We can hold 'virtual' meetings and provide you with some content for a newsletter or website. Our email address is: gdfinfo-copeland@nda.gov.uk
Of course, those who don't have access to online channels can access information through our contact centre, telephone 0300 0660 100.
This is undoubtedly the biggest environmental protection project of our lifetime, please let us know your views, ask questions and get involved.
Take a 360-degree virtual tour of a GDF
The virtual exhibition is designed to offer an interactive experience to help people understand geological disposal.
It's been designed to replicate digitally the experience of visiting a more conventional exhibition with information stands, a 360-degree virtual tour and infographics to get people involved.
To access the exhibition click here and let us know what you think.