The government's rejection of coal-mining in Northumberland is good news, says Marianne Birkby. Now they must follow up by rejecting plans for a new Cumbrian mine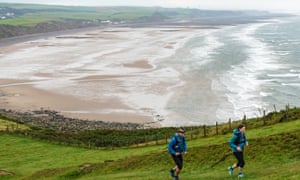 What fantastic news that the government has rejected plans for an opencast coal mine in Northumberland (Javid rejects plan for opencast coalmine, 24 March).
This should put the nail firmly in the coffin of the plan for the first deep coalmine in the UK in 30 years. This would be at the proposed Woodhouse Colliery, which is north of Kendal (not south as wrongly located in your article) and under the Irish Sea off the beautiful coastline of St Bees.
St Bees happens to be the last place where the black guillemot nests in England, which is why the RSPB has opposed the plan. Other reasons to oppose, apart from the compelling climate-change argument, are that it is just five miles from Sellafield. The Davy lamp was tested out in nearby Whitehaven because coal seams here are so gassy with methane. What could go wrong with mining ever nearer to Sellafield? There is a petition to sign opposing this mad plan at 38 Degrees called Keep Cumbrian Coal in the Hole.
Marianne Birkby
Keep Cumbrian Coal in the Hole